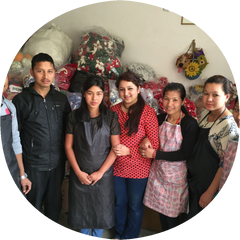 DZI works diectly with artisans in Nepal including Nepal Felt Arts. Walking into the production center's reception you are immediately greeted by a cheerful 'Namaste' ('I Salute the God Within You') with hands pressed together in a prayerful expression. Proceeding into any of the production halls you'll be greeted by a complete chorus of the same as dozens of ladies press felt into a variety of shapes, while others stitch, needle and applique to finish hundreds of different styles of decorative items for export.

Starting with just 10 people in 1994, this Fair Trade company now manages up to 500 staff and workers at two different production sites in the Kathmandu Valley. Launched in 1994 as a family business, their mission continues to focus on providing job opportunities for urban and rural women.

The company has won numerous awards for being a leading exporter in the handicraft sector of Nepal, and recently became the first business in Nepal to pass an intensive examination by Fair Trade USA, as well as being the first ISO 9001:2008 certified company in Nepal. The company has also passed through numerous 'social audits' required by large international buyers.